PIONEER UNIT

This is mainly a unit used to build up roads and bases. Its menu options are not available until you begin a new turn in the desired hex.
A - Upgrade (use to increase the size of bases; larger airport allows larger aircraft; larger base allows quicker repair)
B - Build ?/Build Railroad/Build Road
C - Fortify
D - Rebuild (a bombed base)
E - Destroy Road/Destroy Railroad
F - Destroy Fortification/?
DEPLOY UNITS

Getting there: Simply highlight one of the starting bases you control and press A.
A - Make (pay to have an available unit made)
B - Allocate (use one you already have)
SELECT UNITS (to deploy)

Getting there: Simply select Make or Allocate from the Deploy Units menu. Both Make and Allocate have the same Select Units menu.
A - Switch (toggle Allocate/Make)
B - Info/Arms (for selected unit)
C - Class Progression
D - Retract Deployment (undo the last deployment, while in this menu)
E - Experience column
F - Unit Strength column (1c=minimum strength; 10c=full strength)
G - Units Left (the number of units you can still deploy for the given battle)
UNIT CONTROL

Getting there: Simply select a unit with the A button.
A - Move/Heading | Stop (after moving/attacking)
B - Occupy (only for troops)
C - Arm (change armament)/Refuel (+Repair if parked)
D - Load/Unload (units into/from ships)
E - Model Upgrade/Class Upgrade
F - Reserve (take unit out of battle)/Park (in friendly base)
G - Attack/Bomb (to destroy cities, airports, docks, and the units parked in them)
H - Information
I - Join (merge forces)
J - ?
K - Kill Unit/?
L - End (unit's turn)
NEW UNITS

Getting there: These pop up automatically.
A - Standard (makes it available for purchase)
B - Reserve
C - Obsolete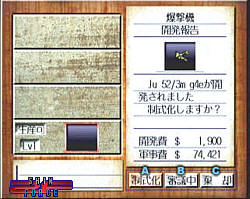 SYSTEM

Getting there: Simply press X.
A - Options (goes to the Options menu)
B - Map (see the current map with color coded unit locations)
C - ?
D - Forfeit
E - Save (for continuing during battle; uses 190 memory units)
F - Load (to continue a saved battle state)
G - Quit
H - Unit List (that are in your army)
I - Army List (by country)
J - Standard List (set the minimum standard for units you can make)
K - Unit Stats (for your army)
L - ?
M - ?
N - ?
O - ?
P - Sight (toggles limited sight distance on/off)
Q - Weather (toggles weather effects on/off)
R - Day (toggles day time on/off)
S - S.E. (toggles sound effects on/off)
T - BGM (toggles background music on/off)
OPTIONS: 2nd HEADING

Getting there: Press X for the System menu and select the upper-left box.
A~E are headings. F~J are selections for the 2nd heading.
A - ?
B - Views (2nd Heading)
C - Player Types (select which armies are controlled by players and the computer)
D - BGM (select which song to hear for each army)
E - ?
F - Battles (currently set for view none; the other two are view your army and view all armies)
G - ?
H - ?
I - ?
J - Tactical (currently set for normal height; the other two are far and close)